TL:DR Avoid scanners with Contact Image Sensors if you care at all about color fidelity.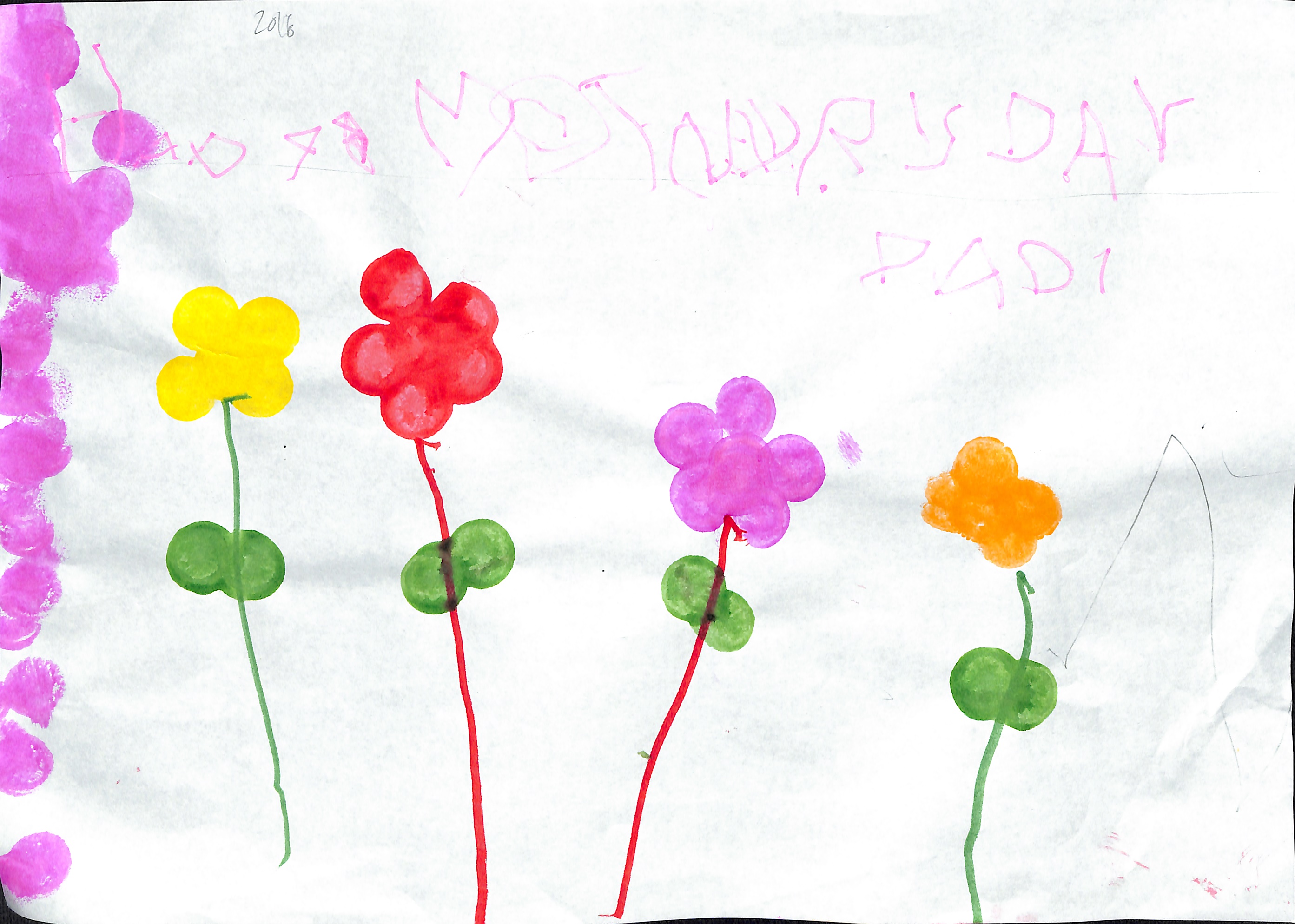 After my abortive trial of the Colortrac SmartLF Scan, I did a comparative test of scanning one of my daughter's A3-sized drawings on a number of scanners I had handy.
| Scanner | Sensor | Scan |
| --- | --- | --- |
| Colortrac SmartLF Scan | CIS | ScanLF.jpg |
| Epson Perfection Photo V500 Photo (manually stitched) | CCD | Epson_V500.jpeg |
| Epson Perfection V19 (manually stitched) | CIS | Epson_V19.jpg |
| Fujitsu ScanSnap S1500M (using a carrier sheet and the built-in stitching) | CCD | S1500M_carriersheet.jpg |
| Fujitsu ScanSnap SV600 | CCD | SV600.jpg |
| Fuji X-Pro2 with XF 35mm f/1.4 lens, mounted on a Kaiser RS2 XA copy stand with IKEA KVART 3-spot floor lamp (CCT 2800K, a mediocre 82 CRI as measured with my UPRtek CV600) | CMOS | X-Pro2.jpg |
I was shocked by the wide variance in the results, as was my wife. This is most obvious in the orange flower on the right.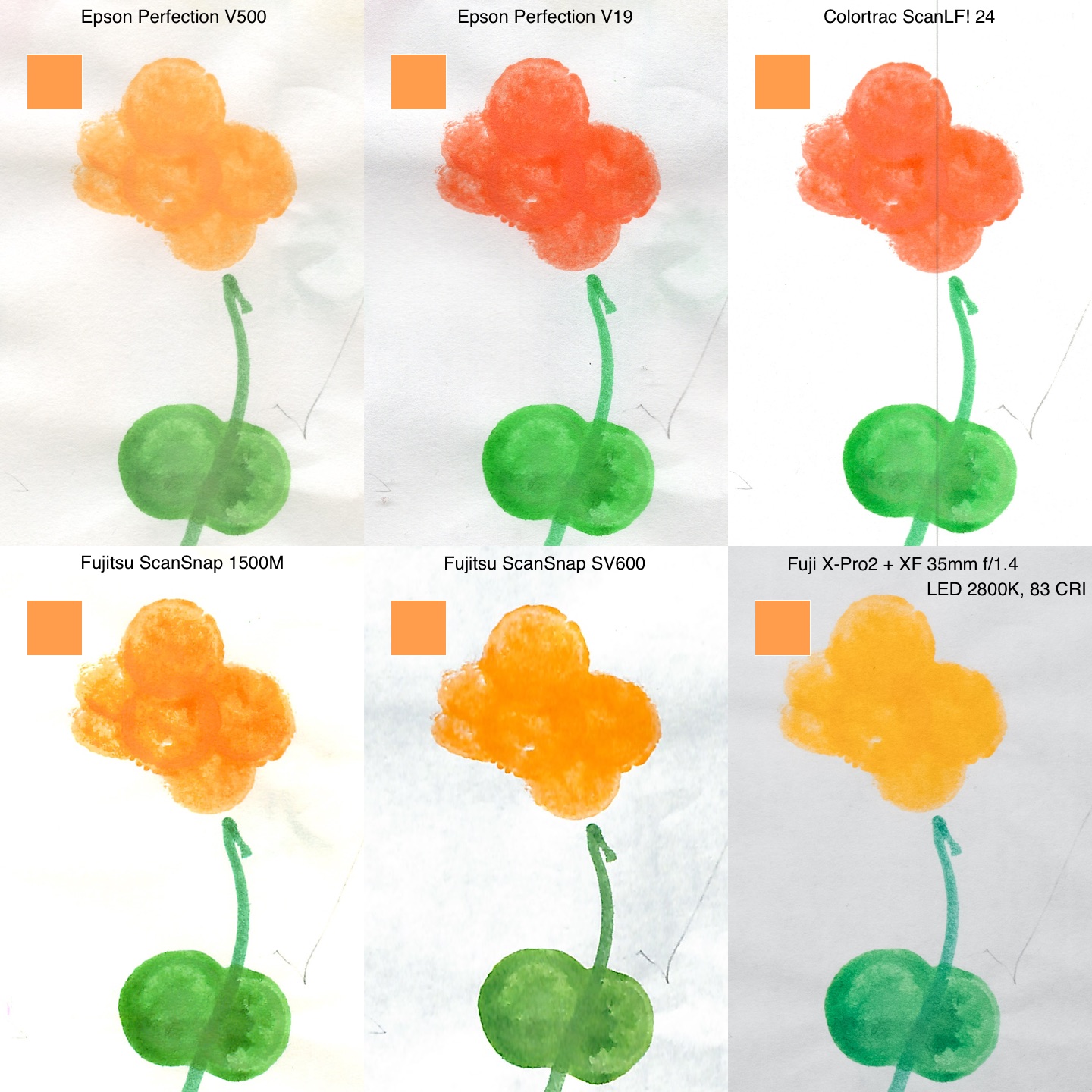 I scanned a swatch of the orange using a Nix Pro Color Sensor (it's the orange square in the upper right corner of each scan in the comparison above). When viewed on my freshly calibrated NEC PA302W SpectraView II monitor, the Epson V500 scan is closest, followed by the ScanSnap SV600.
The two scanners using Contact Image Sensor (CIS) technology yielded dismal results. CIS are used in low-end scanners, and they have the benefit of low power usage, which is why the only USB bus-powered scanners available are all CIS models. CIS sensors begat the CMOS sensors used by the vast majority of digital cameras today, superseding CCDs in that application, I would not have expected such a gap in quality.
The digital camera scan was also quite disappointing. I blame the poor quality of the LEDs in the IKEA KVART three-headed lamp I used (pro tip: avoid IKEA LEDs like the plague, they are uniformly horrendous).
I was pleasantly surprised by the excellent performance of the S1500M document scanner. It is meant to be used for scanning sheaves of documents, not artwork, but Fujitsu did not skimp and used a CCD sensor element, and it shows.
Pro tip: a piece of anti-reflective Museum Glass or equivalent can help with curled originals on the ScanSnap SV600. I got mine from scraps at a framing shop. I can't see a trace of reflections on the scan, unlike on the copy stand.
Update (2018-10-14):
Even more of a pro tip: a Japanese company named Bird Electron makes a series of accessories for the ScanSnap line, including a dust cover for the SV600 and the hilariously Engrish-named PZ-BP600 Book Repressor, essentially a sheet of 3mm anti-reflection coated acrylic with convenient carry handles. They are readily available on eBay from Japanese sellers.