A few months ago, a new chocolate shop opened in Hayes Valley. Christopher Elbow chocolates is based in Kansas City, not a place that immediately springs to mind when the Great American Chocolate Renaissance is discussed. I had bought some of their products from Cocoa Bella, however, and knew they were good, if pricey.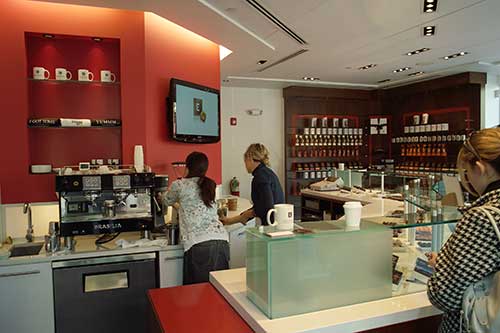 They sell moderately expensive chocolate bars (the No. 10 41% milk chocolate with hazelnuts is pretty good), drinking chocolate, and bouchéees. The latter are a little too bleeding edge for my taste (spices do not belong in chocolate), but the Bourbon Pecan is to die for, a light and moist, pecan marzipan, almost creamy despite the deliberately roughly chopped texture, and topped with ganache. Not surprisingly, it is usually sold out at the other outlets..
The real draw, as far as I am concerned, is the hot chocolate. Dark, rich, creamy and thick, specially if you ask them to blend it with genuine praline, it is absolutely delicious. You can enjoy it in the twee little salon in the corner of the store before a concert at the nearby Symphony, or shopping in Hayes valley. If you are in the neighborhood, try also Miette Confiserie.