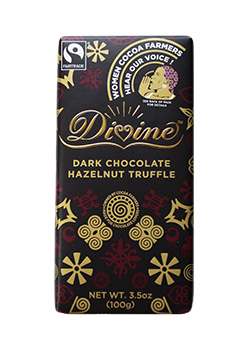 Divine Chocolate is owned by a Ghanaian cocoa farmers' cooperative. All the profits go back to the farmers, unlike the "Fairtrade" scam where the expensive certification primarily benefits self-aggrandizing Western auditors and marketers. For that reason alone it is a brand I would like to love. Unfortunately, my experience with their products to date has been underwhelming—not bad per se, just very ho-hum.
I experienced chocolate cravings today and stopped by the SF SOMA Whole Foods despite its mediocre range (Whole Foods' selection is mostly abysmal, but they are the only grocery within walking distance of my office). They had a new bar by Divine, and I tried it out. This tuned out to be good call.
The bar itself is really a dark chocolate gianduja, I guessed they dumbed down the name to "truffle" to avoid confusing the mainstream consumer. I personally prefer a lighter, milk chocolate based giandujas, my benchmark being the Venchi Blend bars and the Callebaut blocks meant for bakers, but this bar has a clean taste, and the hazelnut taste comes out well.
It is not as good as the Poco Dolce Bittersweet Hazelnut bar, but is also significantly cheaper at $4 each. I am not sure how long they can keep the price, given the bar is 20% hazelnuts by weight, and that the price of hazelnuts on world markets has jumped by 60% due to poor Turkish harvests (Turkey produces 70% of the world's supply of hazelnuts, and 25% of the world's hazelnuts are snapped up by Ferrero, makers of Nutella).