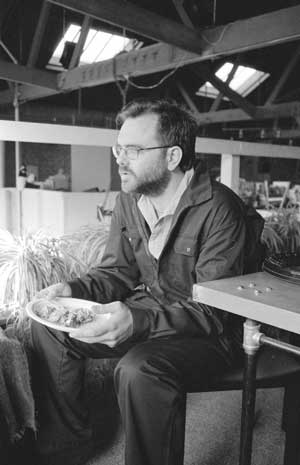 I attended a rather unusual performance yesterday night, Norwegian artist Leif Inge's 9 Beet Stretch. Actually, I shouldn't be using the past tense as it started at 10PM and is still running as I write (I left around 8AM). You see, the work is Beethoven's Ninth Symphony, digitally stretched to last 24 hours. It may sound like a happening gimmick, but interestingly enough some passages are still recognizable despite the tempo mangling. When combined with the setting – a typically SoMa artists' live-work loft with exposed rafters and liberally appointed with couches, reclining chairs, bean bags and mattresses – this gives off a definite tinge of unreality. Amusingly enough, when Beethoven first released his Ninth Symphony, it was criticized for being too long.
Beethoven's Ninth is the reason why audio CDs last 74 minutes – the symphony, known in Japan as the 大九 ("Dai Kyu", Great Ninth) is very popular there and Sony engineers ensured it would fit on a single disc. If they had preferred Mahler, we might have a higher capacity medium. Will the 24-hour Ninth become the yardstick for MP3 players? Not that this is the longest piece in the modern repertoire – the notorious musical provocateur John Cage wrote one called Organ2/ASLSP that started playing on September 5, 2001 and is expected to complete after 639 years…
Update (2017-10-05):
This technique was used to great effect in Christopher Nolan's Dunkirk by stretching Elgar's Enigma Variations, more specifically Nimrod, but having it remain recognizable despite the dilation.