This content is obsolete and kept only for historical purposes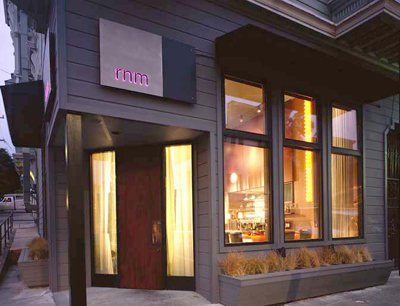 I have just eaten what is hands-down my best meal of the year at r n m restaurant (their capitalization, not mine), on Haight & Steiner in the Duboce Park/Lower Haight district of San Francisco (not to be confused with the formerly raffish and now utterly commercialized Haight-Ashbury).
The restaurant is named after the chef-owner Justine Miner's father, Robert Miner, a co-founder of Oracle. The food was so good I am almost ready to forgive Oracle for their sleazy extortion tactics…
I started with the Parisian style tuna tartare with waffle chips, microgreens and a quail egg, a very classic dish (and one too often botched by careless chefs), given a little pep with a slight acidity. It was followed by an absolutely outstanding pan-roasted local halibut on ricotta gnocchi with asparagus and morel mushroom ragout, meyer lemon vinaigrette and mâche. The halibut was crisp outside, flaky inside. The ragoût was simply wonderful, a deep, rich and tangy broth, also slightly acidulated, with a generous helping of precious black morels. To top it off, the dessert, a Peach and cherry crisp with home-made blueberry gelato combined two of my favorite summer fruit in an unbeatable combination.
Be advised the parking situation in that neighborhood is particularly nightmarish, even by SF standards. If I had realized they offer valet parking, I wouldn't have had to park halt a mile away (after seeking a place in vain for nearly half an hour).
Update (2012-09-05)
Unfortunately, it closed at least a year ago.