Legendary cellist and all-around good guy Mstislav "Slava" Rostropovich passed away in Moscow today. He was a friend and supporter of Shostakovich, Prokofiev, Britten and many others like Dutilleux, and many of the greatest works for cello of the 20th century, indeed of all time, were dedicated to him.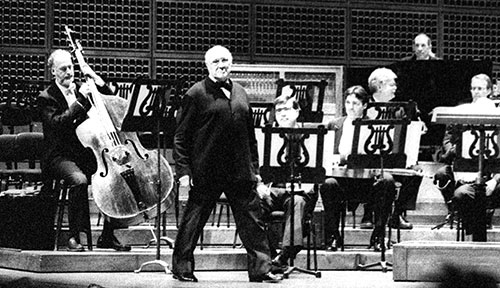 I had the opportunity to hear him conduct Shostakovich's "Babi Yar" a year ago (when I took this photo) and a few years earlier as a cellist the Dvořák Cello Concerto (sadly in replacement of the far superior Shostakovich First Cello Concerto that was dedicated to him).
The world of music has suffered a grievous loss. None of the current generation of cellists (Ma, Gastinel) is of the same caliber. As a conductor, his legacy is more mixed, as his Shostakovich interpretations often lack fire, but his Prokofiev cycle with Erato is marvelous, specially the Fourth in its original version.