This content is obsolete and kept only for historical purposes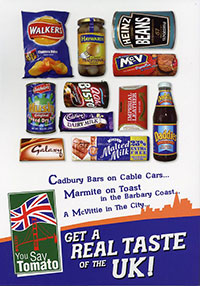 Britain is not known for being a gastronomic haven (although the situation has improved dramatically in London over the last 20 years or so). Still, they have some decent grocery products, like shortbread or Ribena blackcurrant drinks. US specialty groceries carry some, but by no means all British delights.
A few weeks ago, a small shop specialized in imported British foodstuffs opened in my neighborhood. The product it carries are the kind you would expect to find in a regular grocery store in the UK, don't expect esoteric Fortnum & Mason luxuries here, but a solid and growing selection, and a good destination for anyone who would like a little diversity in their daily vittles.
You Say Tomato, 1526 California (between Larkin and Polk), 415-921-2828
Update (2021-04-15):
It closed a few years ago.